<![if !vml]>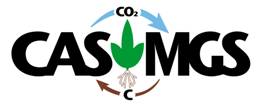 <![endif]>
SOIL CARBON AND CLIMATE CHANGE NEWS
From Kansas State University's:
Consortium for Agricultural Soils Mitigation of Greenhouse Gases (CASMGS)
http://soilcarboncenter.k-state.edu
Charles W. Rice, K-State Department of Agronomy, National CASMGS Director
(785) 532-7217 cwrice@ksu.edu
Scott Staggenborg, K-State Department of Agronomy (785) 532-7214 sstaggen@ksu.edu
Steve Watson, CASMGS Communications (785) 532-7105 swatson@ksu.edu
June 11, 2009
No. 69
Soil carbon sequestration in
semi-arid environment of Spain
A recent study by C. López-Fando and M.T. Pardo of the Centro de Ciencias Medioambientales (CSIC) in Madrid, Spain, examined the effects of various tillage intensities on the topsoil profile distribution (0–30 cm) of pH, soil organic carbon (SOC), organic nitrogen (N) and available nutrients on a semi-arid soil from Central Spain. This research is published in the July 2009 edition of Soil and Tillage Research.
The authors examined the effects of several tillage intensities: no-tillage, minimum tillage with chisel plow, conventional tillage with moldboard plow, and zone-tillage subsoiling with a paraplow applied in alternate years in rotation with no-tillage.
Measurements made at the end of 5 years showed that in the 0–30 cm depth, SOC and N had increased under no-tillage and zone-tillage compared with minimum tillage and conventional tillage. Most dramatic changes occurred within the 0–5 cm depth. No-tillage and zone-tillage plots, however, exhibited strong vertical gradients of SOC and N with concentrations decreasing from 0–5 to 20–30 cm.
Soil pH under no-tillage and zone-tillage was 0.3 units lower than under minimum tillage or conventional tillage at a depth of 0–5 cm. This acidifying effect was restricted at the surface layer and in the 20–30 cm interval, pH values under no-tillage and zone-tillage were higher than in minimum tillage and conventional tillage plots.
These results suggest that in the soil studied, zone-tillage in rotation with no-tillage maintain most of the advantages associated with no-tillage, and present a definite potential for use as a partial-width rotational tillage practice.
The complete article can be found at:
http://www.sciencedirect.com/science?_ob=ArticleURL&_udi=B6TC6-4W91CH7-1&_user=508790&_coverDate=07%2F31%2F2009&_rdoc=11&_fmt=high&_orig=browse&_srch=doc-info(%23toc%235162%232009%23998959997%231130157%23FLA%23display%23Volume)&_cdi=5162&_sort=d&_docanchor=&_ct=17&_acct=C000025157&_version=1&_urlVersion=0&_userid=508790&md5=eab8bfa625606e0afdbb4680ef1fac6a
-- Steve Watson, CASMGS Communications