Subscribe to the SCC Newsletter
<![if !vml]>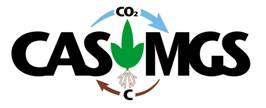 <![endif]>
Climate change work honored with
nobel peace prize
Former Vice President Al Gore and the United Nations IPCC (Intergovernmental Panel on Climate Change) won the 2007 Nobel Peace Prize for their work on global climate change. CASMGS researchers have been involved in many aspects of IPCC work in recent years.
For example, Keith Paustian, Steve Ogle, and Rich Conant, with the CASMGS group at Colorado State University, played a lead role in the development of the 2006 IPCC Guidelines for National Greenhouse Gas Inventories, which are used for preparing national inventory estimates by all countries in the UN Framework Convention on Climate Change (UNFCCC). Data from the Colorado CASMGS researchers' validation/analysis databasewere used to estimate the soil carbon stock change factors incorporated into the 2006 IPCC Guidelines.
As another example, Chuck Rice, CASMGS researcher at Kansas State University, was lead author in writing one of the chapters in the most recent IPCC report. Three focus groups make up the IPCC: Group I researched climate systems and change; Group II dealt with human and ecosystem impact from climate change; and Group III focused on how to reduce greenhouse gases in the atmosphere. Rice was in Group III.
The IPCC and Nobel Peace Prize are just the beginning of CASMGS' long-term effort to increase the role of agriculture in greenhouse gas mitigation.
-- Katie Starzec, CASMGS Communications, Kansas State University