<![if !vml]>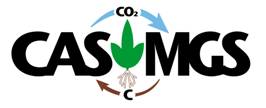 <![endif]>
SOIL CARBON AND CLIMATE CHANGE NEWS
From Kansas State University's:
Consortium for Agricultural Soils Mitigation of Greenhouse Gases (CASMGS)
http://soilcarboncenter.k-state.edu
Charles W. Rice, K-State Department of Agronomy, National CASMGS Director
(785) 532-7217 cwrice@ksu.edu
Scott Staggenborg, K-State Department of Agronomy (785) 532-7214 sstaggen@ksu.edu
Steve Watson, CASMGS Communications (785) 532-7105 swatson@ksu.edu
May 28, 2009
No. 68
Research:
* Protecting soil carbon levels when switching from grass to corn production
* New analysis shows warming could be double previous estimates
National:
* Duke Energy invests in U.S. forestry offset project
* What's next for federal climate change legislation?
**********
Protecting soil carbon levels
when switching from grass to corn production
The national push for biofuels may encourage farmers to plant corn where environmentally friendly grasses are now grown. But those making the switch can still sequester soil carbon and reduce greenhouse gas emissions by not tilling the soil, according to Agricultural Research Service (ARS) scientists.

Ron Follett, a senior supervisory scientist at the ARS Soil Plant Nutrient Research Unit in Fort Collins, Colo., spent six years monitoring levels of soil organic carbon in a Nebraska field where bromegrass was grown for 13 years and the field then was converted to no-till corn.

The effort is one of the most comprehensive field studies yet to address a major issue in agriculture: the effects of replacing native grasses with corn. Bromegrass became a popular alternative in the 1990s for Midwestern farmers trying to save erodible soils, enhance habitats and increase soil organic carbon. Under conventional tillage, much of this carbon is released into the atmosphere as carbon dioxide, a greenhouse gas that contributes to global warming.
Nationwide, there are 35 million acres of bromegrass and other plants grown in exchange for $1.8 billion in annual payments as part of USDA's Conservation Reserve Program (CRP). But as demand for biofuels raises corn prices and CRP contracts end, farmers may replace grasses with corn.

Follett and his team used a herbicide to kill the grass in the fall of 1998 and planted no-till corn the following spring. They collected soil samples at three depths to analyze the total amount of soil carbon at each depth and determine whether the carbon was previously sequestered by bromegrass or newly sequestered by the corn.

Follett's results, recently published in Agronomy Journal, show the benefits of no-till when making the switch. The researchers found corn yields were decreased because of extended drought conditions, but the total amount of carbon in the soil didn't change.
For more details, see:
http://www.ars.usda.gov/is/pr/2009/090527.htm
-- Dennis O'Brien, USDA-ARS News Service, May 27, 2009
**********
New analysis shows warming could be
double previous estimates
The most comprehensive modeling yet carried out on the projected changes in the Earth's climate this century shows that without rapid and massive action, the problem of global warming will be about twice as severe as estimated six years ago -- and could be even worse than that.
The study uses the MIT Integrated Global Systems Model, a detailed computer simulation of global economic activity and climate processes that has been developed and refined by the Joint Program on the Science and Policy of Global Change since the early 1990s.
Study co-author Ronald Prinn, the co-director of the Joint Program and director of MIT's Center for Global Change Science, says that, regarding global warming, it is important "to base our opinions and policies on the peer-reviewed science." And in the peer-reviewed literature, the MIT model looks in great detail at the effects of economic activity coupled with the effects of atmospheric, oceanic, and biological systems. "In that sense, our work is unique," he says.
The new projections, published in May 2009 in the American Meteorological Society's Journal of Climate, indicate a median probability of surface warming of 5.2 degrees Celsius by 2100, with a 90% probability range of 3.5 to 7.4 degrees. This can be compared to a median projected increase in the 2003 study of just 2.4 degrees. The difference is caused by several factors rather than any single big change. Among these are improved economic modeling and newer economic data showing less chance of low emissions than had been projected in the earlier scenarios. Prinn says these and a variety of other changes based on new measurements and new analyses changed the odds on what could be expected in this century in the "no policy" scenarios -- that is, where there are no policies in place that specifically induce reductions in greenhouse gas emissions. Overall, the changes all "stacked up so they caused more projected global warming."
While the outcomes in the "no policy" projections now look much worse than before, there is less change from previous work in the projected outcomes if strong policies are put in place now to drastically curb greenhouse gas emissions.
Without action, "there is significantly more risk than we previously estimated," Prinn says. "This increases the urgency for significant policy action."
The odds indicated by this modeling may actually understate the problem, Prinn says, because the model does not fully incorporate other positive feedbacks that can occur, for example, if increased temperatures caused a large-scale melting of permafrost in arctic regions and subsequent release of large quantities of methane, a very potent greenhouse gas. Including that feedback "is just going to make it worse," Prinn says.
Prinn stresses that the computer models are built to match the known conditions, processes and past history of the relevant human and natural systems, and the researchers are therefore dependent on the accuracy of this current knowledge. Beyond this, "we do the research, and let the results fall where they may," he says. Since there are so many uncertainties, especially with regard to what human beings will choose to do and how large the climate response will be, "we don't pretend we can do it accurately. Instead, we do these 400 runs and look at the spread of the odds."
Because vehicles last for years, and buildings and power plants last for decades, it is essential to start making major changes through adoption of significant national and international policies as soon as possible, Prinn says. "The least-cost option to lower the risk is to start now and steadily transform the global energy system over the coming decades to low or zero greenhouse gas-emitting technologies."
This work was supported in part by grants from the Office of Science of the U.S. Dept. of Energy, and by the industrial and foundation sponsors of the MIT Joint Program on the Science and Policy of Global Change.
-- David Chandler, MIT News Office, May 19, 2009
http://web.mit.edu/newsoffice/2009/roulette-0519.html
**********
Duke Energy Invests in
U.S. Forestry Offset Project
Duke Energy announced it is the lead investor in "GreenTrees," a program that aims to reforest one million acres in the Lower Mississippi Alluvial Valley. The program is expected to generate high-quality, verifiable carbon offsets that Duke Energy believes will help reduce the overall cost of compliance with federal climate change legislation.
<![if !supportLineBreakNewLine]>
<![endif]>
GreenTrees seeks to transform open and marginal farmland in this seven-state region into a sustainable ecosystem that captures large quantities of carbon dioxide, creates habitat for wildlife, and benefits landowners who commit to the long-term reforestation of their property. Duke Energy's initial investment will result in the planting of more than one million trees on approximately 1,700 acres in Arkansas.
<![if !supportLineBreakNewLine]>
<![endif]>
GreenTrees' approach involves the inter-planting of 302 cottonwood and 302 hardwood trees per acre. The fast-growing cottonwoods provide a canopy that promotes hardwood growth and helps transform the land into a forest setting in as few as three to five years.
<![if !supportLineBreakNewLine]>
<![endif]>
Duke Energy expects the federal government will soon implement an economywide cap-and-trade program to control carbon dioxide emissions. The company also believes that high-quality, verifiable carbon offsets derived from reforestation efforts will play an important role in such a program, since trees and other plant life naturally absorb carbon dioxide as they grow.
<![if !supportLineBreakNewLine]>
<![endif]>
"Federal climate change legislation will set the stage for an active carbon offset market in which the demand for domestic offsets will significantly exceed supply," said Keith Trent, Duke Energy's chief policy, strategy and regulatory officer. "Duke Energy's investment in this project affirms our commitment to doing business in a sustainable way that benefits customers, the environment, our shareholders and the economy."
<![if !supportLineBreakNewLine]>
<![endif]>
GreenTrees (www.green-trees.com), which is privately managed by Virginia-based C2I, LLC, has been endorsed by a variety of conservation and wildlife organizations, including the National Wildlife Federation. "The GreenTrees program enables private landowners to benefit from helping us establish a verifiable carbon offset market in the U.S. to address climate change," said Carey Crane, founding partner of C2I.
<![if !supportLineBreakNewLine]>
<![endif]>
Under the program, GreenTrees enters into 70-year carbon offset lease agreements with willing landowners. These long-term agreements minimize the risk of future deforestation and encourage the long-term storage of carbon dioxide in the trees, roots and soil on the land. Landowners retain land use and can simultaneously benefit from multiple revenue streams generated by their property, including: recreational revenue; conservation tax benefits; potential access to federal funds (such as the USDA Conservation Reserve Program); and the right to harvest and sell select amounts of timber within the guidelines of the program.
<![if !supportLineBreakNewLine]>
<![endif]>
-- Greg Efthimiou, Duke Energy 704-382-1925, May 28, 2009
http://www.earthtimes.org/articles/show/duke-energy-invests-in-greentrees,840624.shtml
**********
What's next for federal
climate change legislation?
The U.S. Senate environment committee will start dissecting the Waxman-Markey now that it has cleared a House vote, its chairman, Senator Barbara Boxer (D-Calif.), said. As soon as the comprehensive energy and climate draft is reported out of the House energy committee, "we'll start doing some workshops on their bill," she said.
Boxer's committee has jurisdiction over drafting climate change legislation in the Senate, and last year took the first step in Congress to move a cap-and-trade bill through the legislative process.
The cap-and-trade bill she sponsored with Independent Senator Joe Lieberman and retired Republican Senator John Warner, made it to the Senate floor for consideration last summer but fell well short of the 60 votes it needed for passage. Now, Boxer's committee will look for guidance from the House energy committee, and learn from Chairman Henry Waxman's successes and failures with his bill. Boxer told reporters her committee would look at the Waxman-Markey bill together with the Lieberman-Warner bill, "compare some of the structure," and "pick the best aspects."
"I am proceeding to write a bill (that is) in our committee's jurisdiction," Boxer said, noting she only has responsibility for the climate change portion of a comprehensive energy and climate change bill.
The Senate energy committee, chaired by Senator Jeff Bingaman, has jurisdiction over drafting an energy bill, including measures to implement a national renewable energy standard, like the one found in Waxman-Markey.
Boxer was not able to specify a timeline for action to pass a cap-and-trade bill in the Senate, leaving those decisions "up to Senator (Harry) Reid," the majority leader. Boxer said she is "networking" with Senate
Republicans, such as Maine's Susan Collins and Olympia Snowe, to secure some votes from across the aisle.
In addition, she said Lieberman has been in talks with former Republican presidential nominee Senator John McCain about cap-and-trade legislation. Boxer said she learned from her experience with the Lieberman-Warner bill and had advised Waxman to reach out to coal-state senators to win their support early. She applauded Waxman for reaching compromises with Democratic colleagues from coal-reliant and manufacturing states to ensure support for his bill.
-- Carbon Market North America, May 22, 2009
http://www.pointcarbon.com/news/cmna/1.1123346
**********
MEETINGS OF INTEREST
July 5-9
Global Conference on Global Warming 2009
Istanbul, Turkey
http://www.gcgw.org/gcgw09/index.php?conference=gcgw09&schedConf=gcgw09&page=index
July 15-17
3rd Annual Carbon Capture: Status & Outlook
Washington, D.C.
http://www.infocastinc.com/index.php/conference/carbon09/registration
November 2-4
Carbon Markets Insights Americas
New York, NY
http://www.pointcarbon.com/events/
To subscribe, unsubscribe, or send comments or items for the newsletter, email Steve Watson at: