<![if !vml]>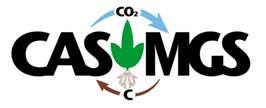 <![endif]>
SOIL CARBON AND CLIMATE CHANGE NEWS
From Kansas State University's:
Consortium for Agricultural Soils Mitigation of Greenhouse Gases (CASMGS)
http://soilcarboncenter.k-state.edu
Charles W. Rice, K-State Department of Agronomy, National CASMGS Director
(785) 532-7217 cwrice@ksu.edu
Scott Staggenborg, K-State Department of Agronomy (785) 532-7214 sstaggen@ksu.edu
Steve Watson, CASMGS Communications (785) 532-7105 swatson@ksu.edu
March 26, 2010
No. 76
Science:
* Soils Emitting More Carbon Dioxide
* Prescribed Burns May Help Reduce U.S. Carbon Footprint
* Black Carbon a Significant Factor in Melting of Himalayan Glaciers
* Methane Releases from Arctic Shelf May Be Much Larger and Faster Than Anticipated
* Piecing together the temperature puzzle
National:
* USDA States That Climate Bill Could Provide Opportunities for Agriculture
* U.S. Senate Version of Climate Bill In the Works
* States Sue to Stop EPA from Regulating Greenhouse Gases
**********
Soils emitting more
carbon dioxide
Soils around the globe have increased their emissions of carbon dioxide over the past few decades, according to an analysis of 439 studies.
The findings, published in the March 24, 2010 issue of Nature, match predictions that increasing temperatures will cause a net release of carbon dioxide from soils by triggering microbes to speed up their consumption of plant debris and other organic matter.
Ben Bond-Lamberty and Allison Thomson, terrestrial carbon research scientists at the University of Maryland's Joint Global Change Research Institute in College Park, conducted the study by stitching together almost 50 years of soil-emissions data — 1,434 data points — from 439 studies around the world. To compare measurements, the researchers accounted for differences between the studies, such as mean annual temperatures and techniques used to gauge carbon dioxide levels. They totaled the data for each year to create a global estimate of soil respiration — the flux of carbon dioxide from the ground into the atmosphere.
The researchers found that soil respiration had increased by about 0.1% per year between 1989 and 2008, the span when soil measurement techniques had become standardized. In 2008, the global total reached roughly 98 billion tonnes, about 10 times more carbon than humans are now putting into the atmosphere each year. The change within soils "is a slow increase, but the absolute number is so large, even a small percentage increase is quite a bit," says Bond-Lamberty.
The extra soil emissions could come from two types of sources: microbes and plants. If plant roots are emitting more carbon dioxide, the additional flux could be balanced by increasing rates of photosynthesis, resulting in no net increase in atmospheric carbon dioxide.
In contrast, warming soils could prompt microbes to break down old sources of carbon that have been locked away for a long time. This would cause a net increase in the atmosphere's store of carbon dioxide.
Although the study shows an increase in respiration, it can't distinguish between the two potential causes.
Thomson and Bond-Lamberty say that their work is just a beginning. They have started an online global soil respiration database to which researchers can contribute additional studies as they are completed. Over time, says Thomson, "we can see if this relationship holds up".
-- Janet Fang, Nature News, March 24, 2010
http://www.nature.com/news/2010/100324/full/news.2010.147.html
**********
Prescribed Burns May Help Reduce
U.S. Carbon Footprint
The use of prescribed burns to manage Western forests may help the United States reduce its carbon footprint. A new study finds that such burns, often used by forest managers to reduce underbrush and protect bigger trees, release substantially less carbon dioxide emissions than wildfires of the same size.
"If we reintroduce fires into our ecosystems, we may be able to protect larger trees and significantly reduce the amount of carbon released into the atmosphere by major wildfires," says Christine Wiedinmyer, a scientist with the National Center for Atmospheric Research (NCAR) and lead author of the new study.
Drawing on satellite observations and computer models of emissions, the researchers concluded that widespread prescribed burns can reduce fire emissions of carbon dioxide in the West by an average of 18 to 25 percent, and by as much as 60 percent in certain forest systems.
Wildfires often destroy large trees that store significant amounts of carbon. Prescribed fires are designed to burn underbrush and small trees, which store less carbon. By clearing out the underbrush, these controlled burns reduce the chances of subsequent high-severity wildfires, thereby protecting large trees and keeping more carbon locked up in the forest.
-- ScienceDaily, March 18, 2010
http://www.sciencedaily.com/releases/2010/03/100317121352.htm
Christine Wiedinmyer and Matthew D. Hurteau
Environ. Sci. Technol., 2010, 44 (6), pp 1926–1932
DOI: 10.1021/es902455e
http://pubs.acs.org/doi/abs/10.1021/es902455e
**********
Black Carbon a Significant Factor
in SOME Glacier MELTING
Lawrence Berkeley National Laboratory scientist Surabi Menon set out to isolate the impacts of greenhouse gases from other particles in the air that may be causing the melting of glaciers in the Himalayan mountains. Menon and her collaborators found that airborne black carbon aerosols, or soot, from India is a major contributor to the decline in snow and ice cover on the glaciers.
"Our simulations showed greenhouse gases alone are not nearly enough to be responsible for the snow melt," says Menon, a physicist and staff scientist in Berkeley Lab's Environmental Energy Technologies Division. "Most of the change in snow and ice cover -- about 90 percent -- is from aerosols. Black carbon alone contributes at least 30 percent of this sum."
Menon and her collaborators used two sets of aerosol inventories by Indian researchers to run their simulations; their results were published online in the journal Atmospheric Chemistry and Physics.
The findings are significant because they point to a simple way to make a swift impact on the snow melt. "Carbon dioxide stays in the atmosphere for 100 years, but black carbon doesn't stay in the atmosphere for more than a few weeks, so the effects of controlling black carbon are much faster," Menon says. "If you control black carbon now, you're going to see an immediate effect."
Atmospheric aerosols are tiny particles containing nitrates, sulfates, carbon and other matter, and can influence the climate. Unlike other aerosols, black carbon absorbs sunlight, similar to greenhouse gases. But unlike greenhouse gases, black carbon does not heat up the surface; it warms only the atmosphere.
This warming is one of two ways in which black carbon melts snow and ice. The second effect results from the deposition of the black carbon on a white surface, which produces an albedo effect that accelerates melting. Put another way, dirty snow absorbs far more sunlight -- and gets warmer faster -- than pure white snow.
Previous studies have shown that black carbon can have a powerful effect on local atmospheric temperature. "Black carbon can be very strong," Menon says. "A small amount of black carbon tends to be more potent than the same mass of sulfate or other aerosols."
-- Julie Chao, Lawrence Berkeley National Laboratory News Center, Feb. 4, 2010
http://newscenter.lbl.gov/feature-stories/2010/02/03/black-carbon-himalayan-glaciers/
**********
Methane Releases from Arctic Shelf
May Be Much Larger and Faster Than Anticipated
Remobilization to the atmosphere of only a small fraction of the methane held in East Siberian Arctic Shelf (ESAS) sediments could trigger abrupt climate warming, yet it is believed that sub-sea permafrost acts as a lid to keep this shallow methane reservoir in place. Here, we show that more than 5000 at-sea observations of dissolved methane demonstrates that greater than 80% of ESAS bottom waters and greater than 50% of surface waters are supersaturated with methane regarding to the atmosphere. The current atmospheric venting flux, which is composed of a diffusive component and a gradual ebullition component, is on par with previous estimates of methane venting from the entire World Ocean. Leakage of methane through shallow ESAS waters needs to be considered in interactions between the biogeosphere and a warming Arctic climate.
Remobilization to the atmosphere of only a small fraction of the methane held in East Siberian Arctic Shelf sediments could trigger abrupt climate warming, yet it is believed that sub-sea permafrost acts as a lid to keep this shallow methane reservoir in place. However, the permafrost under the East Siberian Arctic Shelf is perforated and is leaking large amounts of methane into the atmosphere, according to the findings of an international research team led by University of Alaska Fairbanks scientists Natalia Shakhova and Igor Semiletov.
The East Siberian Arctic Shelf is a methane-rich area that encompasses more than 2 million square kilometers of seafloor in the Arctic Ocean. It is more than three times as large as the nearby Siberian wetlands, which have been considered the primary Northern Hemisphere source of atmospheric methane. Shakhova's research results show that the East Siberian Arctic Shelf is already a significant methane source: 7 teragrams yearly, which is equal to the amount of methane emitted from the rest of the ocean. A teragram is equal to about 1.1 million tons.
-- Science, March 5, 2010
http://www.sciencemag.org/cgi/content/abstract/sci;327/5970/1246?maxtoshow=&hits=10&RESULTFORMAT=&fulltext=Natalia+Shakhova+&searchid=1&FIRSTINDEX=0&resourcetype=HWCIT
Also, see: Science Daily, March 5, 2010
http://www.sciencedaily.com/releases/2010/03/100304142240.htm
**********
Piecing together
the temperature puzzle
Each year, scientists at NASA'S Goddard Institute for Space Studies analyze global temperature data. The past year, 2009, tied as the second warmest year since global instrumental temperature records began 130 years ago. Worldwide, the mean temperature was 0.57°C (1.03°F) warmer than the 1951-1980 base period. And January 2000 to December 2009 came out as the warmest decade on record.
Take a look below at NASA's collection of videos, articles and imagery designed to help tell the story of our warming world.
http://climate.nasa.gov/warmingworld/
**********
USDA StATES that climate bill could
Provide Opportunities for AGRICULTURE
The U.S. agriculture secretary told a farm group on March 15 that a well-designed climate bill would provide opportunities for farmers and ranchers to make money in contracts for carbon offsets.
The U.S. Department of Agriculture "is committed to helping Congress design and implement a carbon offsets market that will provide significant income opportunities to America's farmers and ranchers," Secretary Tom Vilsack told the National Farmers Union convention in South Dakota.
Climate bill opponents, such as the American Farm Bureau Federation, have said higher fuel and fertilizer costs resulting from the legislation would outweigh revenue from contracts to offset greenhouse gases by planting trees and crops that capture carbon.
USDA chief economist Joseph Glauber said in a memo released by the department in March that "some actions to mitigate greenhouse gas emissions can reduce commodity output." He said converting bare or cultivated land into forests, or afforestation, was one example of where that can occur.
Glauber is working with the Environmental Protection Agency to study ways to improve agricultural carbon offsets. Offsets would allow polluters to invest in clean agriculture projects such as afforestation and techniques to store carbon in soil, rather than cut their own emissions.
"USDA and third-party analyses, as well as our experience in implementing conservation techniques, make it absolutely clear that properly structured legislation will avoid unintended consequences and provide enormous benefits to our agricultural economy, and our environment," Vilsack said.
-- Timothy Garnder, Reuters News Service, March 15, 2010
http://communities.thomsonreuters.com/Carbon/503692?utm_source=20100322&utm_medium=email
**********
U.S. Senate Version of Climate Bill
In the Works
Democratic Senator John Kerry is working with Republican Senator Lindsey Graham and independent Senator Joseph Lieberman on a bill to require U.S. industry to cut emissions of carbon dioxide and other greenhouse gases associated with global warming. The three senators have talked about pollution reductions of 17 percent by 2020 below 2005 levels. The bill would pre-empt the EPA from regulating greenhouse gases. The EPA says it will move to regulate carbon pollution on its own if Congress fails to pass legislation, although there is some opposition to this within both the Senate and House.
Under the current Senate bill being developed, there would be a cap-and-trade system for utilities, with a carbon fee on the oil and gas companies that is linked to the price of allowances in the power sector. Steel, cement, and paper companies wouldn't have to comply with carbon caps until 2016 or later. Nothing has been finalized yet, however.
It does seem certain, however, that the Senate bill will take a different approach than the legislation approved by the House of Representatives in June, and by the Senate Environment and Public Works Committee in November. That legislation would set an economy-wide "cap and trade" direction to reducing carbon pollution.
-- Steve Watson, CASMGS Communications
**********
STATES SUE TO STOP EPA
FROM REGULATING GREENHOUSE GASES
At least 15 U.S. states have sued the Environmental Protection Agency seeking to stop it from issuing rules controlling greenhouse gas emissions until it reexamines whether the pollution harms human health.
Florida, Indiana, South Carolina and at least nine other states filed the petitions in the U.S. Circuit Court of Appeals in Washington, D.C. on Thursday, states said. They joined petitions filed last month by Virginia, Texas and Alabama.
The Obama administration has long said it would attack greenhouse gas emissions with EPA regulation if Congress failed to pass a climate bill.
The EPA is set to issue regulations that would require autos and light trucks to increase energy efficiency. That would trigger rules on large emitters like power plants requiring them to get permits showing they are using the best technology available to reduce emissions. The state petitions call for the EPA to reopen hearings on the so-called "endangerment finding" the agency issued last year declaring the emissions dangerous to people.
"If EPA doesn't reopen the hearings we will move forward to try to stop them from regulating greenhouse gases," said Brian Gottstein, an assistant to Virginia's Attorney General Kenneth Cuccinelli.
The states have complained that the EPA relied too heavily from reports by the U.N.'s climate science panel which included information that exaggerated the melting of Himalayan glaciers.
The EPA said it was confident it would withstand legal challenges on the issue. "The question of the science is settled," spokeswoman Adora Andy said.
-- Timothy Gardner, Reuters News Service, March 19, 2010
http://communities.thomsonreuters.com/Carbon/504819?utm_source=20100322&utm_medium=email
**********
<![if !vml]>

<![endif]>
MEETINGS OF INTEREST
May 23-28, 2010
Energy, Water, and Global Climate Change as a Regional Agenda of the Americas
San Diego, CA
http://www-rohan.sdsu.edu/~energy/pasi/index.htm
August 29-September 3, 2010
The 9th International NCCR Climate Summer School
Adaptation and Mitigation: Responses to Climate Change
Grindelwald, Switzerland
http://www.nccr-climate.unibe.ch/summer_school/2010/
To subscribe, unsubscribe, or send comments or items for the newsletter, email Steve Watson at: