<![if !vml]>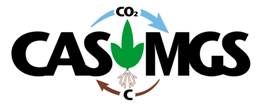 <![endif]>
SOIL CARBON AND CLIMATE CHANGE NEWS
From Kansas State University's:
Consortium for Agricultural Soils Mitigation of Greenhouse Gases (CASMGS)
http://soilcarboncenter.k-state.edu
Charles W. Rice, K-State Department of Agronomy, National CASMGS Director
(785) 532-7217 cwrice@ksu.edu
Scott Staggenborg, K-State Department of Agronomy (785) 532-7214 sstaggen@ksu.edu
Steve Watson, CASMGS Communications (785) 532-7105 swatson@ksu.edu
Oct. 9, 2008
No. 64
Kansas:
* Public Invited to K-State to Hear Experts on Climate Change
National:
* Regional Cap-and-Trade Programs in the U.S. Beginning to Take Action
* Soil Exhibit at the Smithsonian Museum of Natural History
Science:
* The Role of Natural Forests in Carbon Storage
* Tillage and Residue Management Effects on Soil Carbon and CO2 Emission in a Wheat-Corn Double-cropping System
**********
Public Invited to K-State to Hear
Experts on Climate Change


National authorities on global climate change will be at Kansas State University Oct. 21, from 1:30 to 5:30 p.m., as part of a K-State Research and Extension Annual Conference in the K-State Union main auditorium. The public is invited. There is no charge to attend this presentation.

Two of the presenters (Chuck Rice and Johannes Feddema) served on the UN Intergovernmental Panel on Climate Change. They were among the world scientists who helped author the UN's IPCC report that shared the Nobel Peace Price last year with former Vice President Al Gore.

The presenters and their topics include:

"Climate Change Impacts: Global, National, and Regional" - Johannes Feddema, professor of geography at the University of Kansas.

"Adaptation to Climate Change" - Jerry Hatfield, lead scientist and director of the National Soil Tilth Lab, a division of USDA´s Agricultural Research Service in Ames, Iowa.

"Mitigation of Climate Change: Agricultural Sequestration" - Chuck Rice, K-State professor of soil microbiology and specialist in carbon sequestration.

"Climate Change Policy and Economics" - Susan Capalbo, head of the Department of Agricultural and Resource Economics at Oregon State University.

In a shorter segment, Steve Swaffer, director of natural resources for Kansas Farm Bureau, will describe a program that allows farmers to get paid for soil carbon credits.

Ray Hammarlund, director of the Kansas Corporation Commission's Energy Programs Division, will join the discussion in the session's last segment, to cover Kansas´ current climate policy.

More information about the half-day workshop is available by contacting Chuck Rice at 785-532-7217 or cwrice@ksu.edu.
**********
Regional Cap-and-Trade Programs
In the U.S. Beginning to Take Action
In the absence of federal leadership in establishing mandatory greenhouse gas mitigation programs in the U.S., three regional programs have developed – one in the Northeast, one in the Midwest, and one in the West. These regional cap-and-trade programs are all somewhat different.
Northeast and Mid-Atlantic:
"Regional Greenhouse Gas Initiative"
The Regional Greenhouse Gas Initiative (RGGI) is a coalition of Connecticut, Delaware, Maine, Maryland, Massachusetts, New Hampshire, New Jersey, New York, Rhode Island, and Vermont. Greenhouse gas emission caps have been established on power plants within these states. RGGI has blazed the path for other regional coalitions, and possibly for future action on the federal level.
RGGI is the first mandatory cap-and-trade program for carbon dioxide (CO2) to be established on any level in the U.S. Its reach is somewhat limited, since it only places mandatory emissions caps on the power sector within its 10-state region. RGGI will cap emissions on power plants at 2009 levels. Power plants will then have to stay within that emissions cap through 2014. After that, they will be required to reduce emissions. Each year from 2015 through 2018, power plants in the 10-state area will have to reduce emissions below their cap by 2.5 percent per year, for a total reduction of 10 percent.
To reduce emissions of greenhouse gases, the RGGI cap-and-trade program:
* Requires electric power generators to hold allowances covering their allowed emissions of CO2.
* Provides an emissions allowance auction and trading system so that electric power generators and others can buy, sell, and trade CO2 emissions allowances.
The auction for emissions allowances will be bringing in a considerable amount of money. RGGI states will use these funds for energy efficiency programs, to mitigate price impacts of the program on consumers, to stimulate investment in the renewable energy sector, and to cover the administrative costs of the program.
RGGI held its first auction for CO2 emission allowances on Sept. 25, 2008. Six of the 10 states in RGGI offered emissions allowances at this auction. This points out a unique aspect of RGGI. Each state has its own individual trading program and set of state regulations on that program, all based on a uniform RGGI Model Rule. The CO2 allowances issued to power plants within RGGI are reciprocal between states. Taken together, the 10 individual state programs function as a single regional compliance market for carbon emissions.
At the RGGI auction, all 12.6 million allowances were sold. Each allowance allows the emission of one short ton of CO2 emissions. There were 59 bidders, including representatives from the energy, financial, and environmental sectors. The average price was $3.09 per ton of CO2. The next auction is scheduled for Dec. 17, 2008. RGGI allowances are also currently being traded on the Climate Climate Futures Exchange.
Offsets are an important aspect of the RGGI program. Power plants are allowed to purchase offset allowances from approved projects that will reduce or sequester emissions of greenhouse gases. These CO2 offset allowances may be used to satisfy only a limited portion of a source's compliance obligation — initially a maximum of 3.3 percent of a power plant's total compliance obligation. This may be expanded to 5 percent and 10 percent later.
RGGI has set standards to ensure that offsets are real, additional, verifiable, enforceable, and permanent. At this time, five project categories for CO2 offset allowances are eligible under the participating states' regulations.
a. Landfill methane capture and destruction
b. Reduction in emissions of sulfur hexafluoride (SF6) in the electric power sector
c. Sequestration of carbon through afforestation;
d. Reduction or avoidance of CO2 emissions from natural gas, oil, or propane end-use combustion due to end-use energy efficiency in the building sector
e. Avoided methane emissions from agricultural manure management operations
RGGI also allows for emissions credit retirements from a mandatory program outside the United States (e.g., Clean Development Mechanism CERs) to be used as an offset under limited circumstances.
For more information on RGGI, see: www.rggi.org
Western and Northern U.S. and Canada:
"Western Climate Initiative"
The Western Climate Initiative (WCI) is a coalition of seven U.S. states and four Canadian provinces: Arizona, California, Montana, New Mexico, Oregon, Utah, and Washington; British Columbia, Manitoba, Ontario, and Quebec.
Like RGGI, the WCI is establishing a mandatory cap-and-trade system, with limited offsets. The WCI is not as far along in its development as RGGI, but it is more comprehensive in the number of sectors it will include in its mandatory greenhouse gas emissions caps. Also, the WCI is more comprehensive in the scope of greenhouse gases it includes. RGGI only caps carbon dioxide; the WCI sets caps on carbon dioxide, methane, nitrous oxide, hydroflourocarbons, perflourocarbons, and sulfur hexafluoride.
The WCI has a goal of reducing GHG emissions to 15 percent below 2005 levels by 2020. The WCI cap-and-trade program will be implemented in two phases. Beginning January 1, 2012, emissions from electricity generation and large industrial and commercial sources will be covered under the program. In the second phase, beginning January 1, 2015, the program will expand to cover emissions from transportation and residential, commercial, and industrial fuel use not otherwise covered.
On Sept. 23, 2008, the WCI released its Design Recommendations. This is just one step in the process, and much work remains to be done before final regulations are in place. The next meeting of WCI partners to discuss its market design is scheduled for Oct. 21-22 in Quebec.
Some aspects of WCI have been established, however. A regional cap on greenhouse gas emissions will be set, and emissions allowances (each allowance equals one metric ton of CO2 equivalent) will be issued to entities in the various sectors involved. Unlike the RGGI system in which all allowances are sold to emitters through an auction, the WCI current design recommendations state only that a minimum of 10 percent of the allowances be sold through auction, at least at first. The remaining allowances can be issued at no cost.
Offsets are included in the program, at this point. Emissions credits from GHG emissions offset projects will be limited to 49% of the total emissions reductions from 2012 through 2020. Projects must be real, surplus/additional, verifiable, and permanent.
The WCI has identified three project types for offset projects:
1. Agriculture (soil sequestration and manure management);
2. Forestry activities (afforestation/reforestation, forest management, forest preservation/conservation, forest products); and
3. Waste management (landfill gas and wastewater management).
The Design Recommendations encourage offsets to come from WCI states, but does not require it. Further changes to these recommendations are possible.
For more information on the WCI, see: http://www.westernclimateinitiative.org
Midwestern States:
"Midwestern Regional GHG Reduction Accord"
This is the newest of the regional accords, and the one furthest from implementation at this time. The Midwestern Regional GHG Reduction Accord, established on Nov. 15, 2007, is a coalition of six states: Kansas, Iowa, Minnesota, Wisconsin, Michigan, and Illinois; and one Canadian province, Manitoba. Indiana, Ohio, and South Dakota joined the agreement as observers to participate in the development of the cap-and-trade system.
Under the Accord, members agree to establish regional greenhouse gas reduction targets, including a long-term target of 60 to 80 percent below current emissions levels, and develop a multi-sector cap-and-trade system to help meet the targets. Participants will also establish a greenhouse gas emissions reductions tracking system and implement other policies, such as low-carbon fuel standards, to aid in reducing emissions.
The Accord is supposed to be fully implemented within 30 months.
For more information, see: http://www.wisgov.state.wi.us/docview.asp?docid=12497
Other State Actions
At least 36 states, including Kansas, have taken individual actions to formulate some type of "Climate Action Plan" on their own. These plans take various forms, but all are designed to find ways to reduce greenhouse gas emissions.
-- Steve Watson, CASMGS Communications
**********
Soil Exhibit at the Smithsonian Museum
of Natural History
The "Dig It! The Secrets of Soil" exhibit opened in summer 2008 at The Smithsonian Institution's National Museum of Natural History on the Washington Mall. Through objects, media, and hands-on interactives, visitors learn what soil is, what soil means to their lives and cultures, and how soil links earth's land, air, and water. The exhibit occupies a 5,000-square-foot hall near the main rotunda and will run for 18 months. During that time 10 million people are expected to visit the museum. In 2010, the exhibit will begin a 4-6 year tour of major museums in North America. It has been in planning stages since 2002.The effort is funded by the U.S. Department of Agriculture and the Soil Science Society of America in cooperation with numerous private donors.
Exhibit Stops Include:
1. The Skin of the Earth
What on Earth are soils and why are they important to us? Find the answers to these questions, and uncover the dynamic roles soils play in supporting life on Earth. Look under the trunk of an oak tree at a cut-away mural and close-up videos to see and hear what's happening in soils.
2. Sizing Up Soils
See how a soil forms. Discover what various soils are made of and what gives them their special characteristics.
* Color It Wet or Dry. Study soils like a scientist by comparing six soil samples with Munsell color test cards.
* Where in the Soil World Are You? Follow the clues to figure out where three mystery soils come from.
* Hidden Horizons. Touch the layers in a column of soil, and put together puzzle blocks to see how soils stack up.
* Texture Matters. Flip tumblers of "giant" soil particles to see how water moves through sand, silt or clay.
* Find Your Home Earth. Do you know the name of your state soil? Check it out in a gallery of 54 slices of real All-American soils. At the interactive Home Earth kiosk, meet scientists who study soils from the U.S. and even from Mars!
* Chef's Challenge. Watch as two wacky soil chefs, armed with a pantry full of environmental ingredients and 6,000 years, go head-to-head in a competition to "cook" up a unique soil.
3. Matters of Life and Death
Soils are alive and teeming with millions of living things. Take a peek into the life, death and decay beneath your feet.
* Soil Emissions Inspection Station. Touch two modeled soils; then activate two soil "breathalyzers," and watch the simulation as they detect carbon dioxide emissions from soil microbes.
* Matters of Life and Death theater. Watch this edgy and gripping detective story that takes you into the underworld of life, death and decay in the soil food web.
4. The Big Picture
What do soils have to do with clean drinking water and climate change? Find out in this section,
and unearth the roles soils play in Earth's processes. Visit our global map to see the 12 basic types of soils found around the world. Then take our Big Picture computer quiz to learn about global connections between soils and life on Earth.
5. What's Soil Got To Do With It?
How do soils affect where you live, work and play? What's your personal relationship to soils? Explore the many ways we use and benefit from soils and how we affect their health. Touch models of two very different urban soils found in Washington, D.C.
6. Our World, Our Soil
How close are you to soils? In this section, take steps to uncover the many ways soils touch your life every day. Touch a model of a dark earth Amazonian rainforest soil.
To learn more about the exhibit or to find educational materials go to http://forces.si.edu/soils/.
-- Linda Madl, CASMGS Communications
**********
THE ROLE OF NATURAL FORESTS
IN CARBON STORAGE
How much carbon can natural forests store when undisturbed by intensive human land-use activity? That is the question answered in a recent report from the Australian National University. This report, titled "Green Carbon: The Role of Natural Forests in Carbon Storage," presents a summary of results from case studies in the eucalypt forests of south-eastern Australia. According to the study, Australia's untouched natural forests store three times more CO2 than originally estimated and 60 percent more than plantation forests.
Among the observations and conclusions in the report:
* The "green" carbon in natural forests is stored in a more reliable stock than the "brown" carbon in industrialized forests, especially over ecological time scales.
* Carbon stored in industrialized forests has a greater susceptibility to loss than that stored in natural forests.
* The carbon stock of forests subject to commercial logging, and of monoculture plantations in particular, will always be significantly less on average (~40 to 60 per cent depending on the intensity of land use and forest type) than the carbon stock of natural, undisturbed forests.
* The rate of carbon fixation by young regenerating stands is high, but this does not compensate for the smaller carbon pools in the younger-aged stands of industrialized forests compared with those of natural forests.
* Carbon accounts for industrialized forests must include the carbon emissions associated with land use and associated management, transportation and processing activities.
* Australian natural forests have far larger carbon stocks than is recognized.
* The remaining intact natural forests constitute a significant standing stock of carbon that should be protected from carbon emitting land-use activities.
* There is substantial potential for carbon sequestration in forest areas that have been logged if they are allowed to re-grow undisturbed by further intensive human land-use activities.
For details of the report, see:
http://epress.anu.edu.au/green_carbon/pdf/whole_book.pdf
-- Steve Watson, CASMGS Communications
**********
Tillage and residue management effects on
soil carbon and CO2 emission in a wheat-corn double-cropping system
Article abstract: "The mitigation of CO2 emission into the atmosphere is important and any information on how to implement adjustments to agricultural practices and improve soil organic matter (SOM) stock would be helpful. [The authors] studied the effect of tillage and residue management on soil carbon sequestration and CO2 emissions in loam soil cropped in a winter wheat-corn rotation in northern China. There were five treatments: mouldboard ploughing, rotary tillage and no-tillage with chopped residues (MC, RC, and NC), additional no-tillage with whole residue (NW) and mouldboard ploughing without residue (CK). After [five] years of each tillage system, MC and RC had higher annual CO2 efflux from soil. The CO2 effluxes were correlated with the ratio of dissolved organic carbon to soil microbial biomass (DOC/MBC) among treatments. This effect may be due to less immobilization of soil carbon by microorganisms under long-time intensive tillage. Although both MBC and DOC showed seasonal variability, when averaged across the sampling period only MBC discriminated between treatments. After [five] years of tillage, all treatments except CK increased SOM (0.16-0.99 Mg [carbon] ha−1 year−1) at 0-30 cm depth and NC was the greatest, resulting from historical SOM depletion and large [carbon] return from recent residues. Despite the lowest CO2 flux being from the NW treatment, lower input residue from decreased biomass may have lowered [carbon] sequestration. To improve soil [carbon] sequestration in rotations, the input of residue and the CO2 emission should be balanced by adopting appropriate tillage and residue management."
Wenxu Dong, Chunsheng Hu, Suying Chen, and Yuming Zhang, Nutrient Cycling in Agroecosystems
http://www.springerlink.com/content/q37t8t37416423j4/?p=9a776e82ce334c30baa165f053c10d44&pi=0
**********
MEETINGS OF INTEREST
November 12-14, 2008
Carbon Market Insights Americas 2008
Washington, D.C.
www.pointcarbon.com/events
November 16-20, 2008
International Conference on Greenhouse Gas Technologies
Washington, D.C.
http://mit.edu/ghgt9/index.html
**********
To subscribe, unsubscribe, or send comments or items for the newsletter, email Steve Watson at: